Guitare à crayon
The idea behind "la Guitare à crayon" is to be able to paint and play music with the same instrument (crayon mean pencil in english). It's a custom usb guitar with open source software: namely, pure data (for sound) and gimp, blender, flash (for visual).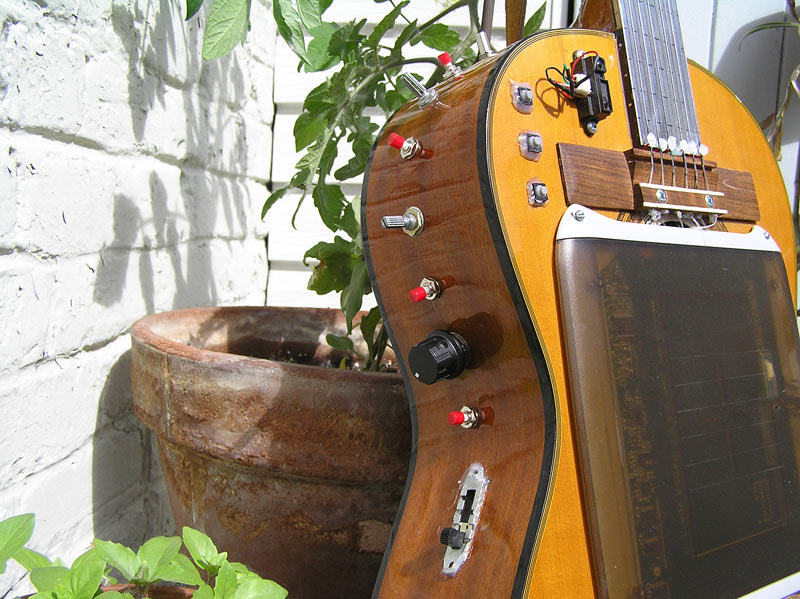 Hardware features:
Accelerometer X-Axis (for example controlling the octave)
Accelerometer Y-Axis (for example controlling an effect)
6 analog strings giving around 10 bits of resolution
External input: 1 analog, 1 digital
4 positions switch
8 buttons
4 pots
1 piezo with velocity filter (for example trigging any sound)
1 ir distance sensor (+-6cm – +-20cm)
1 unuseful led (for tapping the bpm)
Pressure-sensitive tablet
Foot controller (using a led & a photoresistor)
Foot switch (looper, change sound, …)
Software features:
No driver (firmware & bootloader)
Linux, Windows, Mac
Pure Data poweful DSP (sample, soundfont, fx rack, multiple looper)
Gimp for 2d (drawing, painting, photo, …)
Gesture tracking on the tablet (linux only)
Work in progress:
Converting an electric guitar to an electronic guitar
Updating the firmware via http
All the credit to Michael Egger for helping me finding the right solution. Visit his videobass project.